OUR FORMULA
THE BASE
Our unique soap base is carefully formulated by us, using a nourishing blend of plant based oils and butters, such as Olive, Shea, Cocoa, Coconut, Sunflower, Sweet Almond, Castor and Jojoba. We also use Grape seed oil and Avocado oil in our SPA bars for their amazing skin benefits. Each oil adds different qualities to the products, making sure our soap bars have a luxuriously rich, velvety lather, leaving your skin feeling nourished and moisturised.
(You can read more about each of our natural ingredients and their qualities below)
SUPERFATTING
All of our professionally formulated soaps are superfatted, which means there are 5-10% extra oils added to the recipe that doesn't turn into soap. These excess oils will remain inside the product to add luxury to the lather and more moisturising qualities to each bar.
THE PRECIOUS GLYCERINE
Sadly, this naturally occurring "moisture magnet" is often being removed from commercial soap to extend shelf life. Instead of removing it, we boost the natural Glycerine production so our soaps are higher in this important component, making our bars super hydrating and absolutely non-drying. 
ONLY NATURAL ADDITIVES
Our products are scented with pure essential oils and coloured with natural clays, homegrown herbs and hand-processed organic fruit peels. 

ABSOLUTELY NO NASTIES
Our products contain NO palm oil, NO harmful chemicals, NO synthetic fragrances, NO artificial colourants, NO bleaching agents, NO foaming agents, NO toxins, and NO preservatives.
COSMETIC SAFETY APPROVED
You can feel confident that you are purchasing a safe and quality assured product. We hold CPSR (CosmeticProduct Safety Report) for all our recipes, which means they have been safety assessed by a chartered chemist to ensure our formulas are mild and safe for use. 


With only one exception of the Honey Meadow soap, all our products are suitable for Vegans.
OUR ALL-NATURAL INGREDIENTS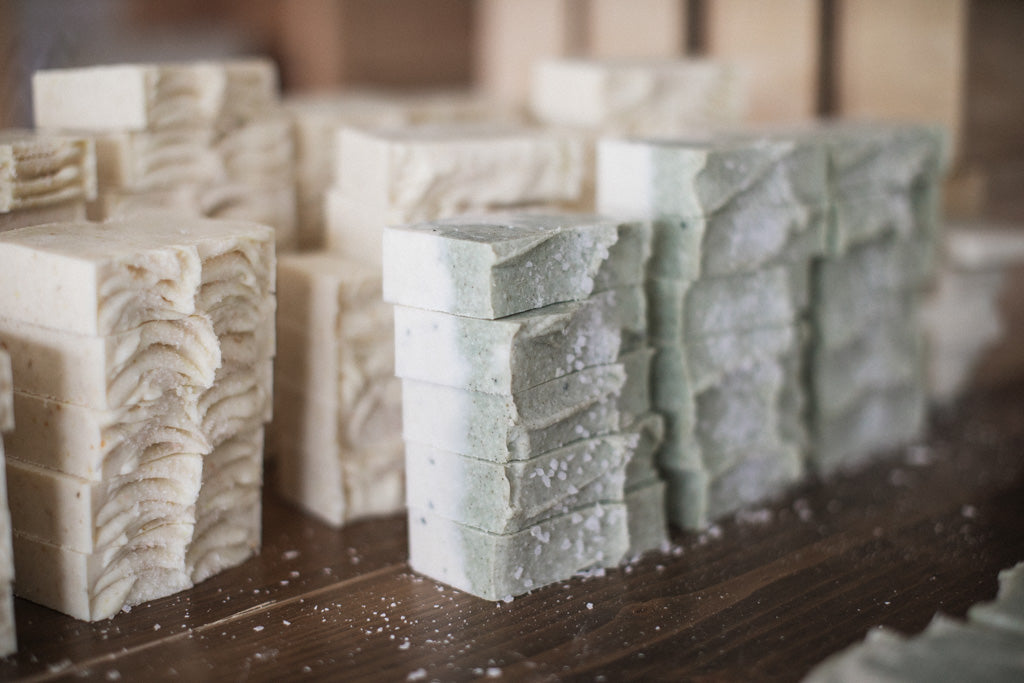 OILS AND BUTTERS

Almond oil (Prunus Amygdalus Dulcis)
Rich in Vitamin E and Antioxidants, soothes dryness and irritation by regenerating damaged cells, leaving the skin hydrated and smooth. 

Avocado oil (Persea Gratissima)
Deeply nourishing to the skin and may help with dryness and irritation thanks to its rich antioxidant and high vitamin content.

Castor oil (Ricinus Communis)
Known for its strong purging and detoxing properties. Effective for skin with acne as it helps increase cell turnover.

Cocoa butter (Theobroma Cacao)
Rich in fatty acids and antioxidants, it deeply hydrates and protects the skin, improving elasticity.

Coconut oil (Cocos Nucifera)
High in fatty acids including vitamin E, which protects the skin from oxidative damage and offers a rich moisturising feel.

Grape seed oil (Vitis Vinifera)
Rich in Omega 6 as well as being packed with antioxidants such as Vitamin A, C and E. It helps restore elasticity and protect the skin from environmental damage.

Hemp seed oil (Cannabis Sativa)
High in omega-3 and omega-6 fatty acids, it moisturises and nourishes the skin, while offering anti-inflammatory benefits.

Jojoba oil (Simmondsia Chinensis)
A balancing oil that mimics the skin's natural sebum and makes a great moisturiser for all skin types.

Olive oil (Olea Europaea)
Reduces the signs of ageing due to its antioxidant properties. It leaves the skin hydrated and moisturised.

Shea butter (Butyrospermum Parkii)
An excellent rich and nourishing moisturiser which reduces the appearance of fine linesand leaves the skin silky smooth.

Sunflower oil (Helianthus Annuus)
Known for its softening and skin restoring properties. It is great for all skin types and assists in maintaining healthy moisture.
ESSENTIAL OILS

Amyris (Amyris Balsamifera)
This oil is classed as a middle-base note with a mild, sweetly balsamic Sandalwood-like aroma that promotes relaxation and calmness. It has anti-inflammatory and anti-bacterial properties which can help soothe and heal skin irritations such as eczema and psoriasis.

Basil (Ocimum Basilicum)
It has a sweet herbaceous aroma. Basil may help with lymphatic clearance and offers anti-inflammatory and anti-bacterial properties. 

Bergamot (Citrus Aurantium Bergamia)
A bright, sweet and slightly floral aroma, known for its use in Earl Grey Tea. It is uplifting to the senses and assists in renewing the skin.

Black Spruce (Picea Mariana)
A warm, sweet, evergreen aroma with fruity undertones. Black Spruce has been well known and used in all-natural medicine for hundreds of years. It can be used to eradicate harmful bacteria, protect against viral infections and improve mental clarity.

Cedarwood (Cedrus Deodara)
A gentle, earthy scent with woody, smoky notes. Known for its anti-inflammatory and grounding abilities.

Cinnamon Bark (Cinnamomum Zeylanicum)
It has a pleasant warm spicy scent and is known for being a very powerful antioxidant. Cinnamon also has antibacterial and anti-inflammatory properties.

Clary Sage (Salvia Sclarea)
It has a warm, herbaceous & floral aroma. Clary Sage can help reduce inflammation and helps to regulate the natural PH of the skin.

Clove Bud (Eugenia Caryophyllus)
It has a warm, spicy, aromatic scent. It has anti-microbial, anti-fungal, antiviral and antiseptic properties that will help toheal and prevent acne, fight the signs of ageing and fade dark spots and blemishes.

Eucalyptus (Eucalyptus Globulus)
It has a penetrating fresh scent and has deeply purifying & antibacterial properties, which may result in a healthy and radiant complexion.

Fir Needle (Abies Sibirica)
A wonderfully fresh evergreen scent.It has antioxidant properties that prevent premature ageing. It is effective in treating acne, sores and insect bites. Its antibacterial and anti-fungal properties also help with eczema and skin diseases.

Frankincense (Boswellia Serrata)
It is an earthy scent with a luxurious velvety aroma. A balancing and moisturising oil that promotes focus and helps grounding. 

Geranium (Pelargonium Graveolens)
A deep floral scent with a grounding effect on the mind. It helps promote the appearance of clear and healthy skin.

Ho-Wood (Cinnamomum Camphora Linalooliferum Wood)
A grounding oil with a sweet woodsy scent and camphoraceous notes. It is classed as a middle note and is renowned for its deeply relaxing and skin-nourishing properties.

Jasmine (Jasminum Sambac)
It has a sweet floral aroma, which comes from an exotic night blossoming flower.It has skin softening and anti-ageing qualities.

Juniper (Juniperus Communis)
A sweet, woody scent with light, herbal notes. It is an invigorating oil that assists in purification.

Lavender (Lavandula Angustifolia)
A fresh, floral aroma known for its calming and soothing effects on both the body and mind. It also has incredible anti-inflammatory and anti-microbial qualities.

Lemon (Citrus Limon)
Fresh, fruity, citrus that is high in Vitamin C. Lemon encourages collagen production and promotes natural skin radiance.

Lemon Balm (Melissa Officinalis)
A rich, lemony scent with a pleasant herbaceous aroma. It offers mood balancing and anti-viral properties.

Lemongrass (Cymbopogon Flexuosus)
An energising and refreshing citrus scent with clean herbal notes. It is highly antibacterial and has powerful cleaning properties.

Lime (Citrus Nobilis)
A fresh and zesty oil, with a sharp citrusy aroma to invigorate the mind and help uplift. It has strong antibacterial and antiviral properties, as well as deep cleansing qualities to help facilitate detoxification.

Mandarin (Citrus Aurantifolia)
A bright, fruity scent with relaxing qualities to help prevent and reduce stress-related sleep loss. It has antibacterial and anti-inflammatory properties. 

May Chang (Litsea Cubeba)A sweet, faintly lemony scent with deeply relaxing qualities. It is a soothing remedy with antibacterial and anti-fungal properties.

Myrrh (Commiphora Myrrha)
A rich, smoky oil that is gentle to the skin and makes an effective natural moisturiser. It has been used to help prevent signs of ageing since the Ancient Egyptians. It has antibacterial and anti-fungal properties.

Niaouli (Melaleuca Viridiflora)
A refreshing, slightly camphorous scent, often compared to eucalyptus. Niaouli oil is highly antiseptic and with skin cleansing properties.

Sweet Orange (Citrus Sinensis)
With its sweet, vibrant aroma, it has exceptional mood-boosting properties. It is a natural toner and freshener for the skin.

Petitgrain (Citrus Aurantium) oil smells like orange blossoms with a bitter and herbaceous undertone that is known to have calming effects on the mind and body. It can help to balance oily skin and reduce the appearance of blemishes by protecting the skin from harmful bacteria.

Pine (Pinus Sylvestris)
It has a fresh, balsamic aroma. Fights bacteria and fungus and is useful for a variety of skin conditions including psoriasis, warts, eczema and itching.

Pink Grapefruit (Citrus Grandis)
It has a sweet uplifting citrus scent and is known for it's refreshing benefits to both the body and mind.

Pink Peppercorn (Schinus Molle)
This grounding and balancing oil has a fresh, warming scent with dry floral notes. It is a strong antioxidant with antibacterial properties. 

Rose-Geranium (Pelargonium Roseum)
With a delicate, fresh and sweet floral scent, it has the ability to calm emotions. This precious oil is known to soften the skin and promote fading of scars and blemishes.

Rosemary (Rosemarinus Officinalis)
A fresh, minty-herbaceous aroma, with a woody-balsamic undertone. It has antimicrobial, antioxidant and antiseptic properties.

Sage (Salvia Officinalis)
A fresh, peppery, herbal scent with antibacterial and anti-inflammatory properties.

Tea Tree (Melaleuca Alternifolia)
A strong, fresh,herbaceous scent. It is a powerful yet gentle antiseptic stimulant, that can reduce or eliminate harmful bacteria, viruses, fungi and infections upon contact. It is known to soothe rashes and acne.

Vetiver (Vetiveria Zizanoides)
A deeply grounding aroma with calming and soothing effects. Vetiver root oil is also known for its natural anti-inflammatory and antiseptic effects. 

Wintergreen (Gaultheria Procumbens)
It has a fresh mint, candy-like aroma with an uplifting effect. It can help with circulation and soothes muscles.

Ylang Ylang (Cananga Odorata)
A rich and sweet floral scent from an exotic flower, commonly prized for its anti-ageing and mood-balancing properties. It also has strong antibacterial and anti-fungal properties.
BOTANICALS

We use the following plants in whole or ground format to give our soaps and bath salts their wholesome properties, exfoliating effects, colours and textures.

Algae (Undaria Pinnatifida)
Basil leaf (Ocimum Basilicum)
Black Tea leaf (Camellia Sinensis)
Calendula flower (Calendula Officinalis)
Chamomile flower (Anthemis Nobilis)
Chlorella (Chlorella Vulgaris)
Clove bud (Eugenia Caryophyllus)
Grapefruit peel (Citrus Grandis)
Green Tea leaf (Camellia Sinensis)
Hemp seed (Cannabis Sativa)
Hinoki Cypress leaf (Chamaecyparis Obtusa)
Lavender flower (Lavandula Angustifolia)
Lemon peel (Citrus Limon)
Lemongrass (Cymbopogon Flexuosus)
Lime peel (Citrus Nobilis)
Mandarin peel (Citrus Aurantifolia)
Orange fruit and peel (Citrus Sinensis)
Poppy seed (Papaver Somniferum)
Rose flower (Rosa Damascena)
Rosemary leaf (Rosmarinus Officinalis)
Sage leaf (Salvia Officinalis)
Spinach leaf (Spinacia Oleracea)
Spirulina (Spirulina Platensis)
Star Anise fruit (Illicium Verum)
Turmeric root (Curcuma Longa)
CLAYS

Brazilian Purple Clay (Kaolin)
A type of Kaolin clay, that is naturally coloured due to its mineral content and does not contain any artificial dyes or pigments.

British White Clay (Kaolin)
A gentle, exfoliating, balancing clay, that is mild enough to be used on sensitive skin.

Cambrian Blue Clay (Montmorillonite)
A natural blue clay, formed from deposits in Siberian salt lakes. It is prized for its high mineral content, including zinc and iron which promote proper cell regeneration and encourage skin rejuvenation.

French Green Clay (Montmorillonite)
It has exfoliating and toning properties, whilst drawing out impurities from the pores.

French Pink Clay (Montmorillonite)
A gentle, brightening and mildly exfoliating mineral-rich clay.

French Red Clay (Illite-Kaolinite)
A cleansing and rejuvenating clay, which leaves the skin toned and fresh.
SALTS

Sea Salt (Maris Sal)
Rich in essential minerals that soften, restore and revitalise skin.

Himalayan Salt (Sodium Chloride)
It has a very high mineral content(over 80 different mineral types). This beautiful pink rock salt provides wonderful exfoliating effects and soothes and renews the skin by absorbing dirt and toxins. It also has natural antibacterial properties.

Epsom Salt (Magnesium Sulfate)
High in magnesium which helps to relax stiff and aching muscles.

Black Lava Salt (Sodium Chloride)
Rejuvenates and detoxifies the skin thanks to the charcoal and natural mineral content within the salts. 
ALKALI

Let's talk about Lye

Aka Caustic Soda or Sodium Hydroxide. It is an essential ingredient in soap making, it is not possible to make soap without it. 

A bar made without Lye is not actually soap but a syndet bar, just like our shampoo bars. They are made of other ingredients and have different properties.

When soap makers say "we don't use lye," they are referring to the fact that they're using a ready-made soap base known as "melt and pour." Although lye was used in the production of the base, it's no longer present in the final product because it has completely reacted during the soap-making process. So, while they're technically telling the truth about not using lye, it was used in creating the initial base.

Lye has been used for centuries in natural soap making and when used correctly, it can help create safe, all-natural products. 

Our Sodium Hydroxide is made from common table salt that is dissolved in water and electrodes introduce electricity into the mix (called electrolysis), creating chloride, hydrogen, and lye.

However (according to the British and European Cosmetic Laws), you won't find Sodium Hydroxide on our labels since it is NOT present in the final product.
When an oil has saponified (turned into soap), it will get a new chemical name (rather than its original botanical name). For example, Shea butter is called Butyrospermum Parkii; after mixing with lye it becomes Sodium Shea Butterate which is still Shea Butter but the saponified version.

Whenever a recipe is formulated professionally, Lye will completely disappear during saponification, whilst turning the beautiful oils and butters into soap.
THE REST

Water (Aqua)
We use it to make our lye solution that will be mixed with the oils. This water then evaporates from the soap during the curing period of 4-6 weeks.

Glycerine
Naturally occurring during saponification. It is sometimes referred to as the most powerful moisture magnet. Helps to protect the skin from environmental sources of irritation and makes dry skin feel amazingly soft and supple.

Honey (Mel)
Our locally harvested, raw honey offers natural antibacterial and antioxidant properties. It's excellent for ageing skin and well known for its moisturising and soothing effects. 
Honey is our only ingredient that is classed as Vegetarian, not Vegan.

Activated Charcoal (Charcoal powder)
This fine, black powder is known as the most powerful skin detoxifier that balances excess oil production. 

Coconut milk (Coconut Nucifera)
This plant milk has wonderful moisturising effects and helps maintain skin elasticity.

Maltodextrin
The natural stabiliser in coconut milk powder (an ingredient used in our Restore Bath Salts)

Citric Acid
Natural acid from citrus fruits. It helps improve soap quality.

Naturally occurring in some essential oils:
Benzyl Benzoate
Benzyl Salicylate
Cinnamic Aldehyde
Citral
Citronellol
Eugenol
Geraniol
Limonene
Linalool