Share away
Regular price
Sale price
$12.94 USD
Unit price
per
Sale
Sold out
Lemongrass, Pink Grapefruit & Lemon with Poppy Seed
An irresistibly juicy citrus delight - with scrubby poppy seeds - to energise the skin and uplift the senses. 
Scented with super tangly essential oils
Packed with hand-processed citrus zest
Coloured with Calendula & Turmeric
Loaded with Poppy Seed for a sensational exfoliating feel
For all skin types
"The ultimate choice when you love a soap of natural citrus blast!"
All-Natural
Handmade in small batches

Cold-process

Vegan-friendly
Palm oil free
Also available in mini size.

OUR ESSENTIAL OIL BLEND
Pink Grapefruit oil has a sweet uplifting citrus scent known for its refreshing benefits to both the body and mind.
Lemon oil has a vibrant citrus aroma and is high in Vitamin-C which encourages collagen production and promotes natural skin radiance.
Lemongrass oil has a fresh and clean aroma that offers energising properties and is naturally antimicrobial. 

MADE WITH
Calendula petals for their beautiful yellow colour and healing benefits.
Poppy Seed is rich in essential fatty acids which offer anti-inflammatory benefits and wonderful exfoliating qualities. 
British White Clay aka Kaolin has gentle exfoliating and balancing properties for the skin.
Turmeric powder has the power of reducing hyperpigmentation and helps with acne. It naturally gives even more depth to the lovely yellow tones.
British White Clay aka Kaolin has gentle exfoliating and balancing properties for the skin.
Shea Butter is a rich and nourishing natural moisturiser that reduces the appearance of fine lines and leaves the skin silky smooth.
Coconut Oil is well known for its softening effects, it is rich in vitamin E and proteins which moisturise and protect the skin. 
Almond Oil is rich in Vitamin E and Antioxidants and soothes dryness and irritation by regenerating damaged cells, leaving the skin hydrated and smooth. 
Castor Oil helps increase cell turnover and acts as a protective barrier on your skin that will protect against harsh environmental conditions.
INGREDIENTS
Saponified Coconut Oil, Saponified Olive Oil, Saponified Sunflower Oil, Natural Glycerine, Saponified Shea Butter, Saponified Sweet Almond Oil, Saponified Castor Oil, Water, 
Lemon Oil, Grapefruit Oil, Citric Acid, British White Clay, Lemongrass Oil, Lemon Peel, Grapefruit Peel, Poppy Seed, Calendula Flower, Turmeric Powder.
Naturally occurring in essential oils: Citral, Geraniol, Limonene, Linalool.
INCI names
View full details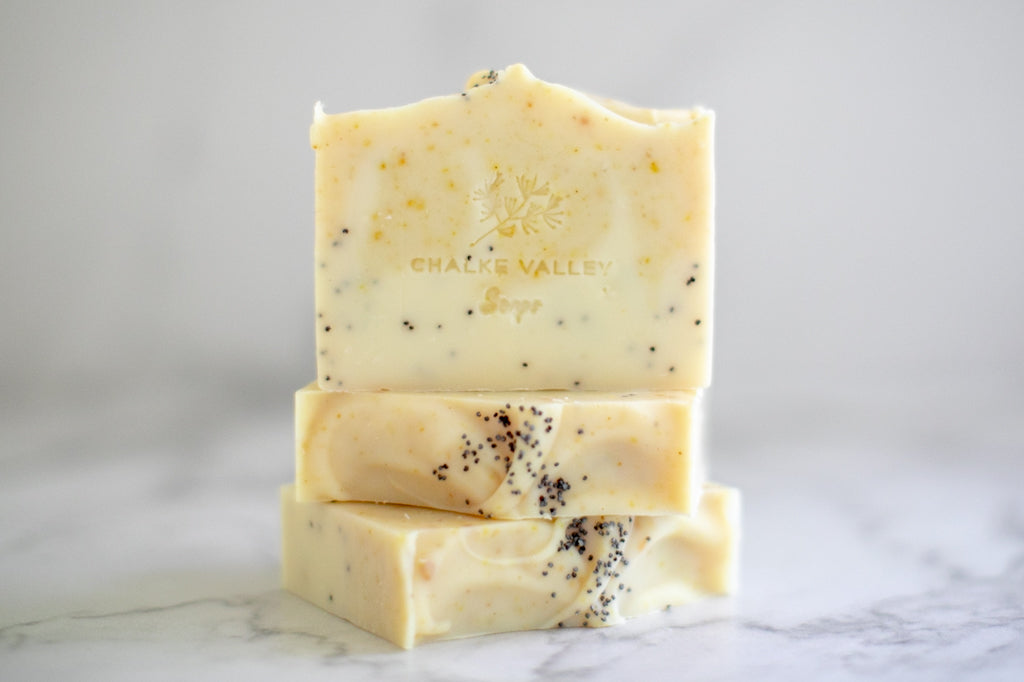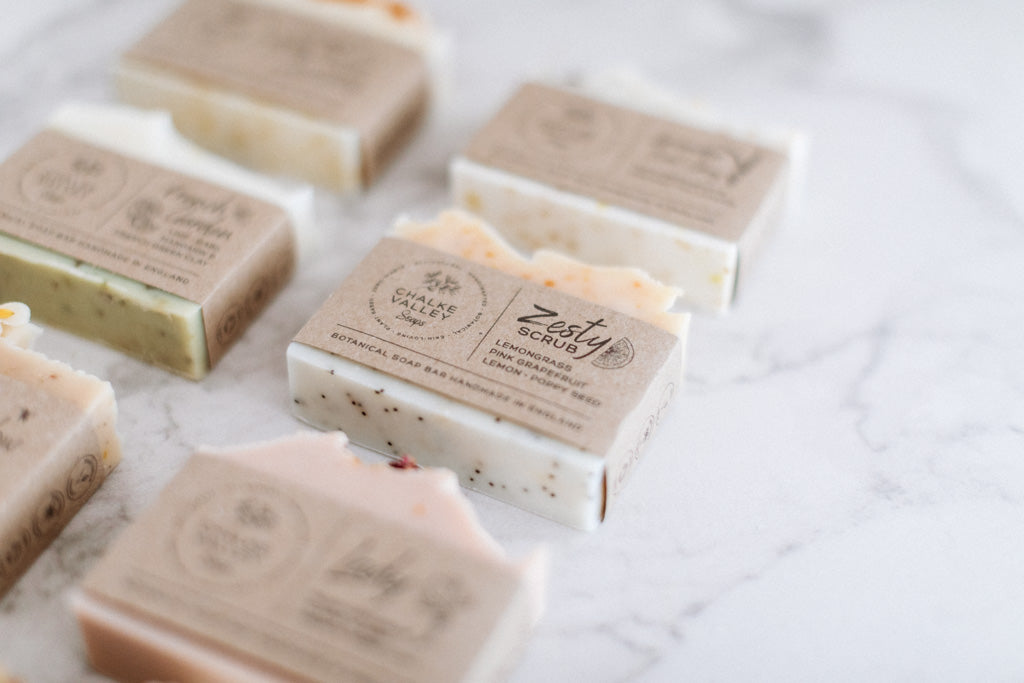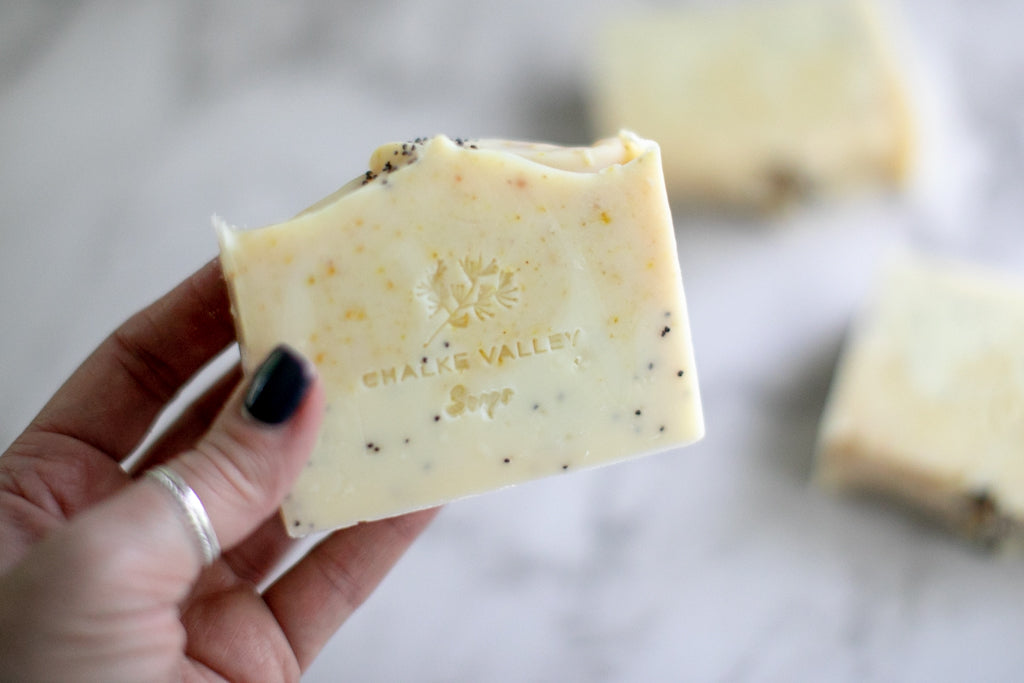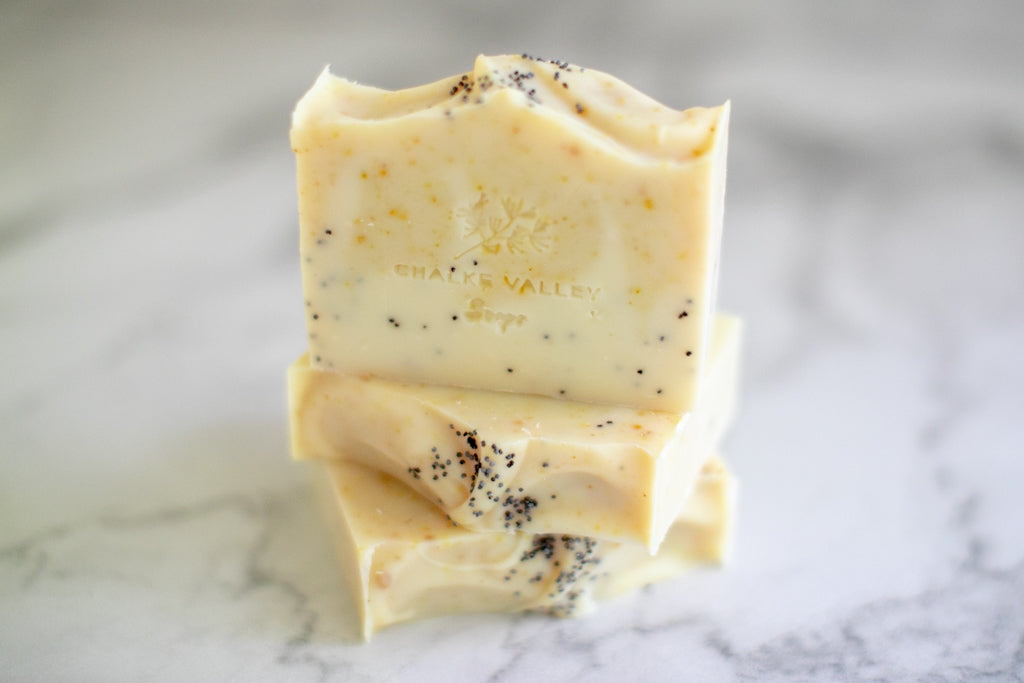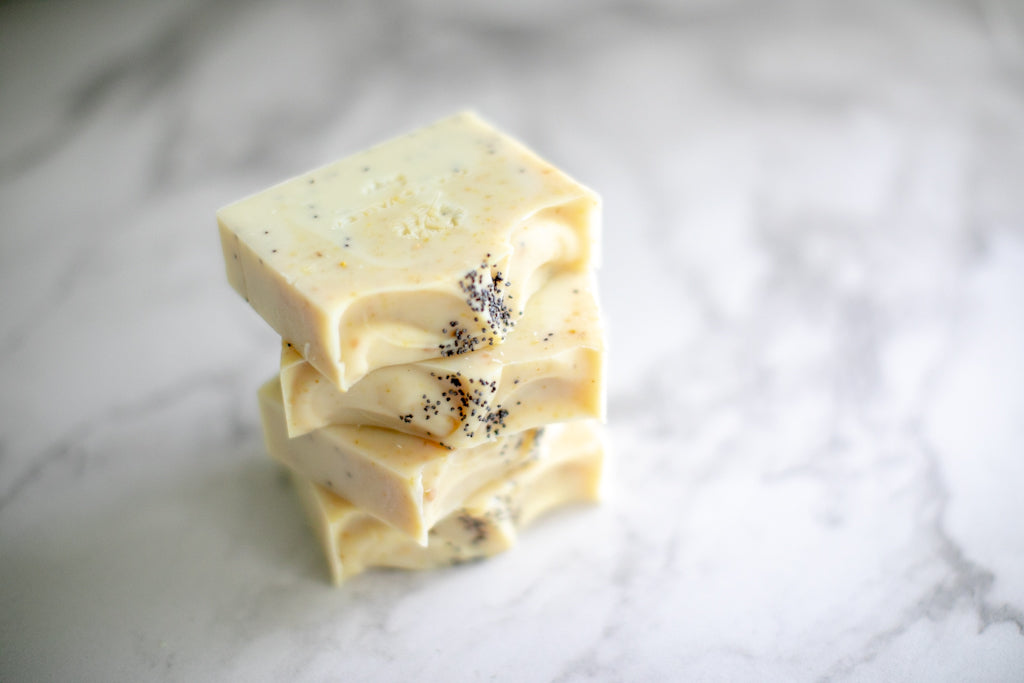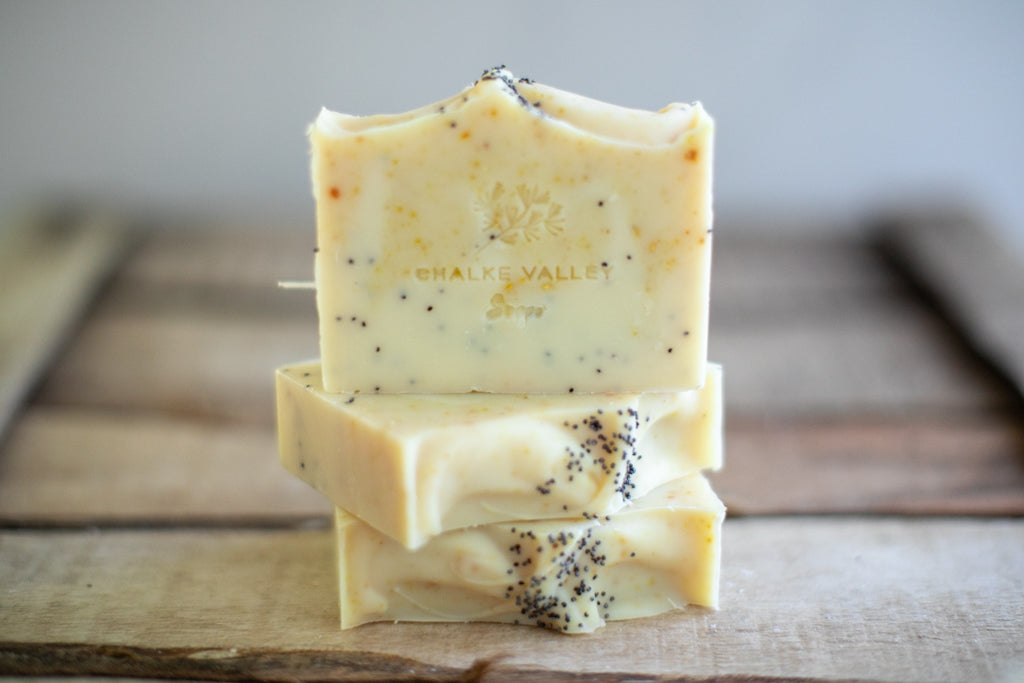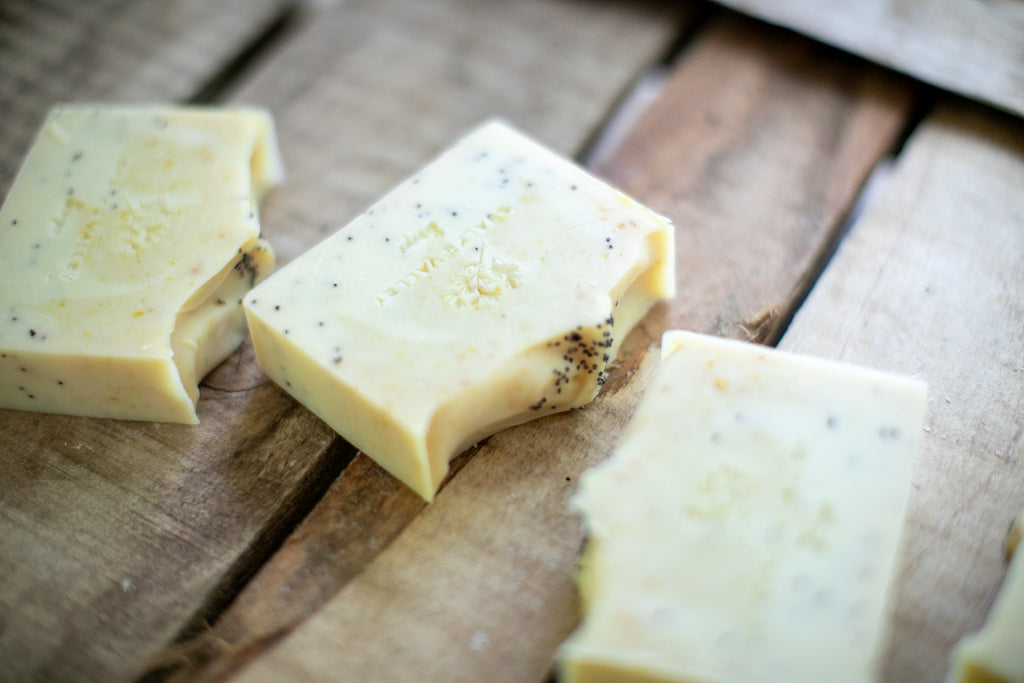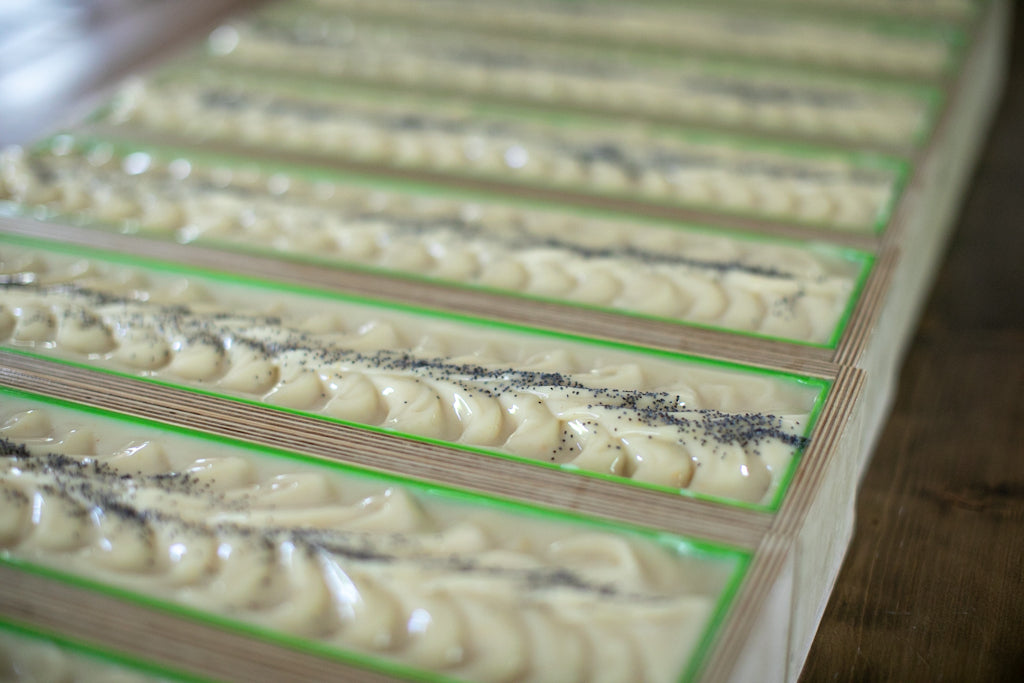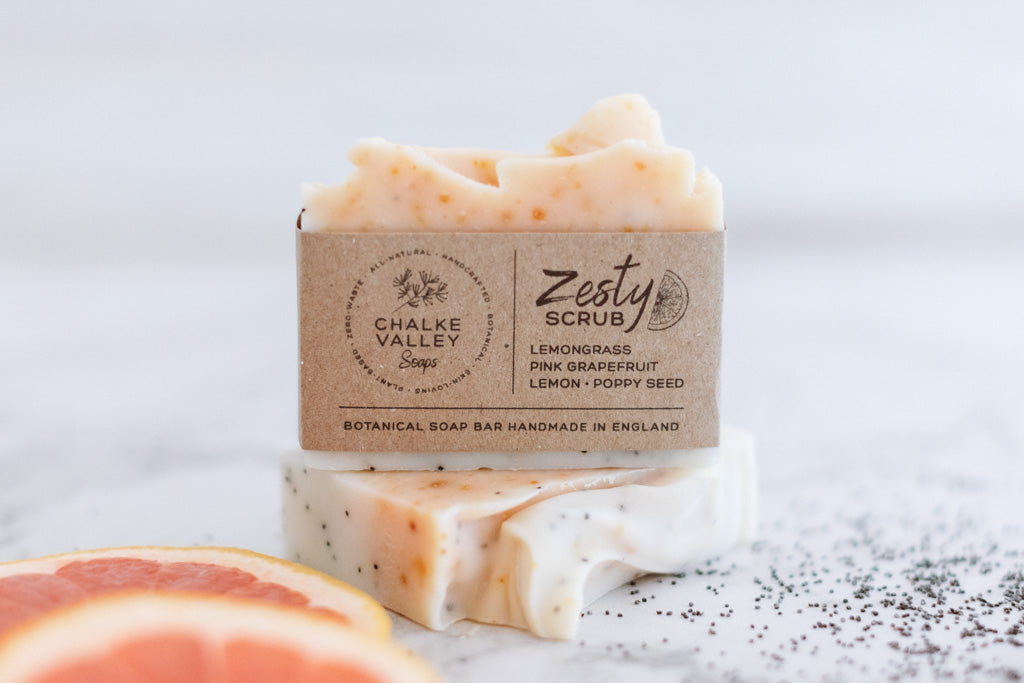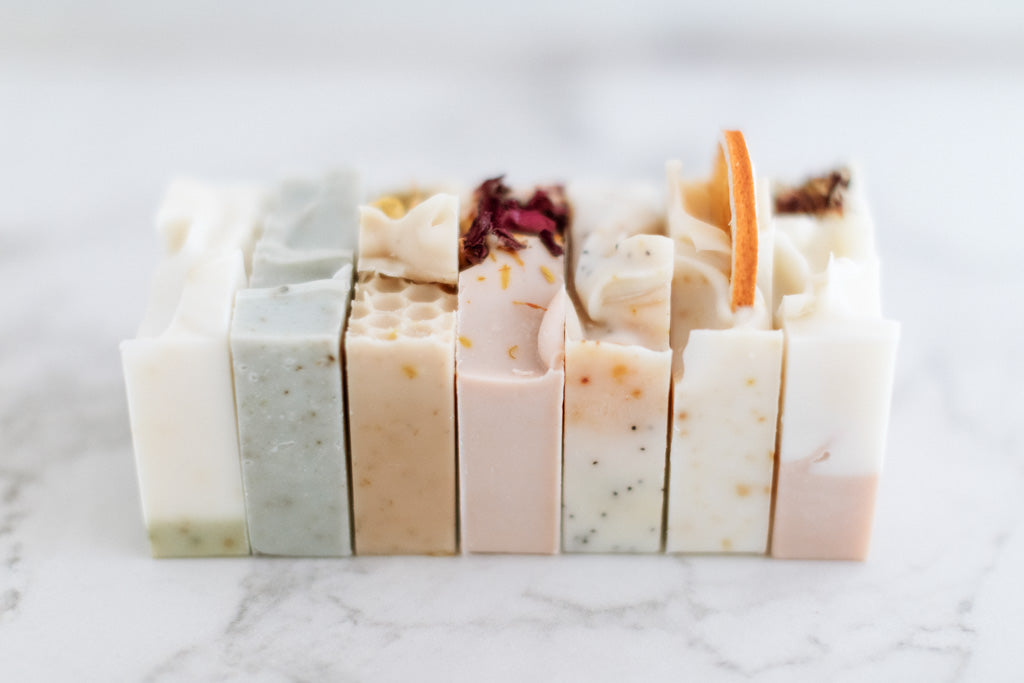 Collapsible content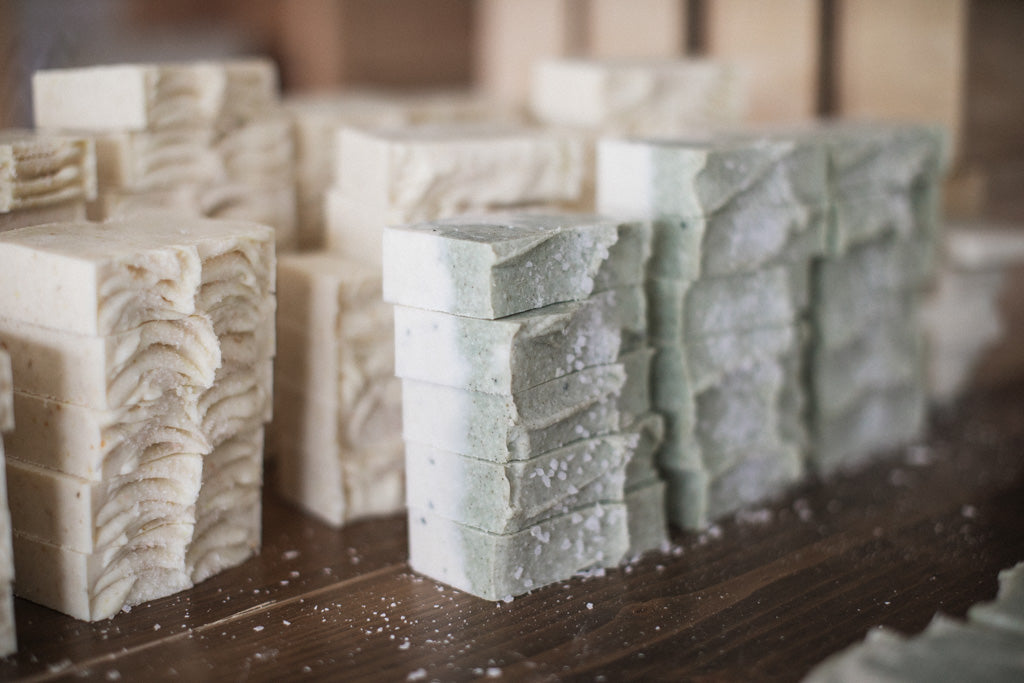 OUR NOURISHING FORMULA

Our professionally formulated unique recipes are brimming with a gorgeous blend of oils and butters such as shea, almond, coconut, olive, castor, sunflower and jojoba, giving our soaps their luxuriously rich lather.

Experience the luxury that our non-drying formula provides, delivering intense moisture for irresistibly smooth and nourished skin.

Additives
Our natural additives include premium-quality, pure essential oils, mineral-rich clays, algae as well as organic herbs and fruit peels, handpicked from our own garden and kitchen.

Free from
All our products are free from palm oil, harmful chemicals, toxins, synthetic fragrances, artificial colourants, preservatives and any bleaching or foaming agents.

THE BASE BLEND

Coconut Oil is high in fatty acids including vitamin E, which protects the skin from oxidative damage and offers a rich moisturising feel.
Olive Oil reduces the signs of ageing due to its antioxidant properties. It leaves the skin hydrated and moisturised.
Sunflower Oil is known for its softening and skin restoring properties. It is great for all skin types and assists in maintaining healthy moisture.
Shea Butter is a rich and nourishing moisturiser which reduces the appearance of fine lines and leaves the skin silky smooth.
Cocoa butter is rich in fatty acids and antioxidants, it deeply hydrates and protects the skin, improving elasticity.
Sweet Almond Oil is rich in Vitamin E and Antioxidants, soothes dryness and irritation by regenerating damaged cells, leaving the skin hydrated and smooth. 
Castor Oil is known for its strong purging and detoxing properties. Effective for skin with acne as it helps increase cell turnover.
Glycerine is naturally occurring during saponification. Helps to protect the skin from environmental sources of irritation and makes dry skin feel amazingly soft and supple.

NOTE
Our soap recipes undergo periodic updates as part of our dedication to innovation. Consequently, the ingredient list displayed here may differ from the one on the product's packaging, depending on the time and location of your purchase.

FOR MORE INFO ABOUT OUR ALL-NATURAL INGREDIENTS CLICK HERE.
PRODUCT DIMENSIONS

Our soaps are handmade and hand-cut, so size, shape, and design may vary between bars, adding to their unique charm. Please note that all sizes are approximate.

Net weight
Regular bars: 135g (4.8oz)
Salt bars: 145g (5.10oz)
Half bars: 65g (2.3oz)
Mini bars: 35g (1.2oz)

Size
Large bars: 8.5 x 7 x 2.5 cm (3.3 x 3 x 1 ″)
Half bars: 4.25 x 7 x 2.5 cm (1.6 x 3 x 1 "
Mini bars: 4.25 x 7 x 1.7 cm (1.6 x 3 x 0.5 ")
DIRECTIONS & CARE

Unleash the magic of our natural soap with these simple and fun instructions!

How to use
Rub between your palms under warm water to create a luxurious lather. Embrace the moment, washing your body while singing your favourite melody, and finally, rinse. Experience the wonder of a cleansing ritual that leaves your skin renewed, fresh, and irresistibly smooth.

Extend the lifespan
Help your beautiful handmade soap last longer by allowing it to dry out completely between uses. If you need a beautiful and well draining soap dish, then check out our accessories.

Easier handling
Our soaps are rather large, so feel free to cut them in half to make them easier to handle. This makes them perfect for kids too! Enjoy the goodness in a size that suits you best.
WARNINGS

For external use only!
Avoid contact with the eyes!
If skin irritation occurs, discontinue use!
Avoid in case of known allergy to listed ingredients!
Always consult your doctor before using essential oils during pregnancy!
Although our soaps are mild enough for small children, be aware that the toppings can include small pieces, such as seeds and petals, so please remove them before use or keep out of reach for under 3s!
Please note! As we use Sweet Almond Oil in our recipes, our soaps are not suitable for those with serious nut allergies!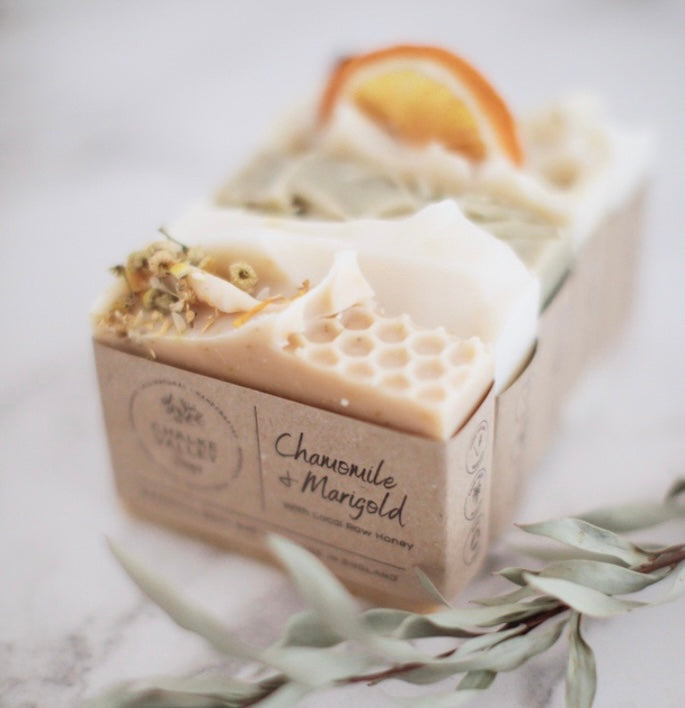 Create your own bundle and save
10% OFF 3 bars with code 3BUNDLE
15% OFF 5 bars with code 5BUNDLE
EXPLORE MORE VARIANTS
Packaging & Shipping

All our products and labels have been designed to be 100% plastic-free and will be carefully prepared in eco-friendly packaging, then shipped within 3-5 business days. Express delivery service is available.

READ FULL SHIPPING INFO

Loyalty Programme

Earn Bubble Points each time you shop with us. Spend your Bubble Points on soap, bath salts, shampoo bars or anything you like in our shop. You can also earn a discount voucher each time you refer a friend to us! 

LEARN MORE

Disclaimer

We at Chalke Valley Soaps are not medical or healthcare professionals and do not claim that the use of our products may have a positive effect on pre-existing physical and/or mental health conditions. The information in our listings pertains to the properties of specific ingredients used in the product.