Regular price
Sale price
$9.05 USD
Unit price
per
Sale
Sold out
Share
Premium all-natural shampoo bar for dogs with Lemongrass, Lavender and Frankincense essential oils
Treat your pooch to a spa day with our luxurious handmade shampoo bar, lovingly infused with premium essential oils. While Frankincense oil tenderly soothes the skin and Lavender oil calms the senses, Lemongrass will not only add a refreshing zing, but naturally protects from insects. 
The soap's natural green hue comes from Algae, adding shine to fur. Our formula also includes a Chamomile and Calendula infusion, shea butter, and high-grade oils, delivering a rich lather that cleans effectively and moisturises without causing itchiness.
Give your four-legged friend the all-natural pampering they deserve.
KEY FEATURES
Dog-safe essential oils
Hydrating, non-itchy formula
Non-toxic and plastic-free
Ideal alternative to bottled shampoos
90g solid bar
BENEFITS
Coconut oil is known for its moisturising and antifungal properties, helping to keep your dog's skin soft and free from irritation.
Rapeseed oil is a rich source of omega fatty acids and Vitamin E, promoting a healthy, shiny coat for your dog.
Shea Butter deeply hydrates and soothes your dog's skin, offering relief from dryness and irritation.
Castor oil naturally moisturises and conditions your dog's fur, promoting a soft and healthy coat.
Glycerine is naturally occurring during saponification. Helps to protect the skin from environmental sources of irritation.
Sweet Almond Oil to prevent dryness and itchiness. 
Chamomile & Calendula infusion works to soothe and calm irritated skin while providing natural anti-inflammatory benefits.
Citric Acid makes our formula super mild and gentle on dogs' skin while also reducing soap scum for a cleaner bathing experience.
British White Clay gently detoxifies and cleanses, making it ideal for sensitive dog skin without causing dryness or irritation.
Lavender is known for its calming effects, making it ideal for soothing your dog's skin while providing a gentle, aromatic experience.
Lemongrass offers natural insect-repelling qualities while also providing a fresh scent and antibacterial benefits for your dog's skin and coat.
Frankincense is renowned for its skin-soothing properties, making it ideal for relieving irritation and promoting a healthy, shiny coat for your dog.
Chlorella promotes a healthy coat and skin due to its rich nutrient profile, including essential fatty acids and antioxidants. 
INGREDIENTS
Sodium Cocoate (Coconut oil), Sodium Rapeseedate (Rapeseed oil), Aqua (Water), Sodium Shea Butterate (Shea butter), Sodium Castorate (Castor oil), Calendula Officinalis (Marigold) Oil, Matricaria Recutita (Chamomile) Oil, Prunus Amygdalus Dulcis (Sweet Almond) Oil, Citric Acid, Kaolin (British White Clay), Cymbopogon Flexuosus (Lemongrass) Oil, Lavandula Angustofiola (Lavender) Oil, Chlorella Vulgaris Powder (Green Algae).
View full details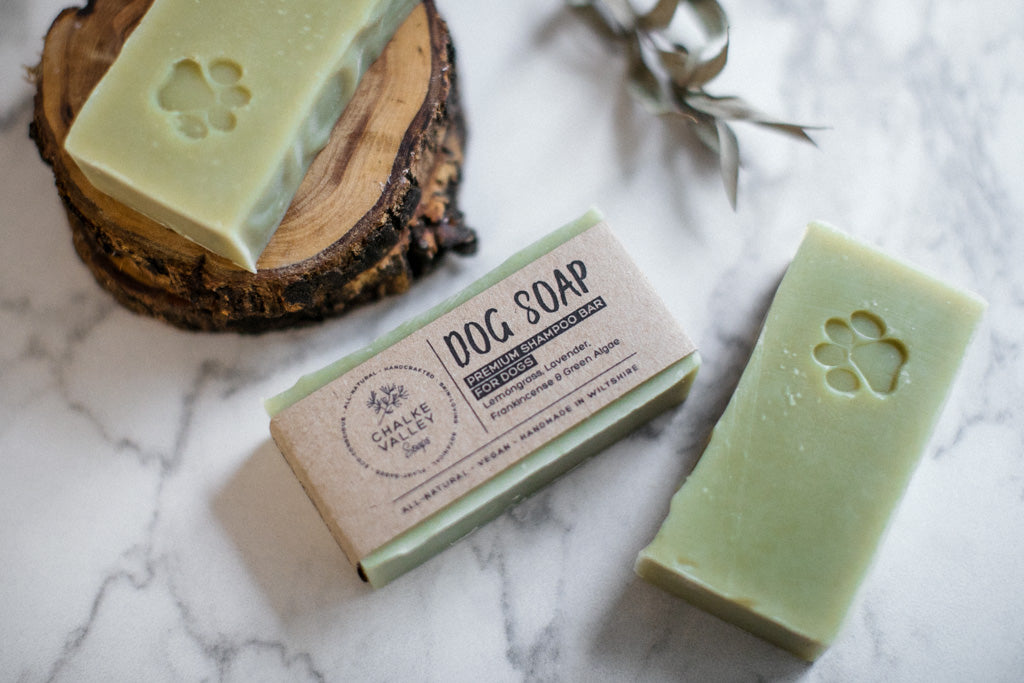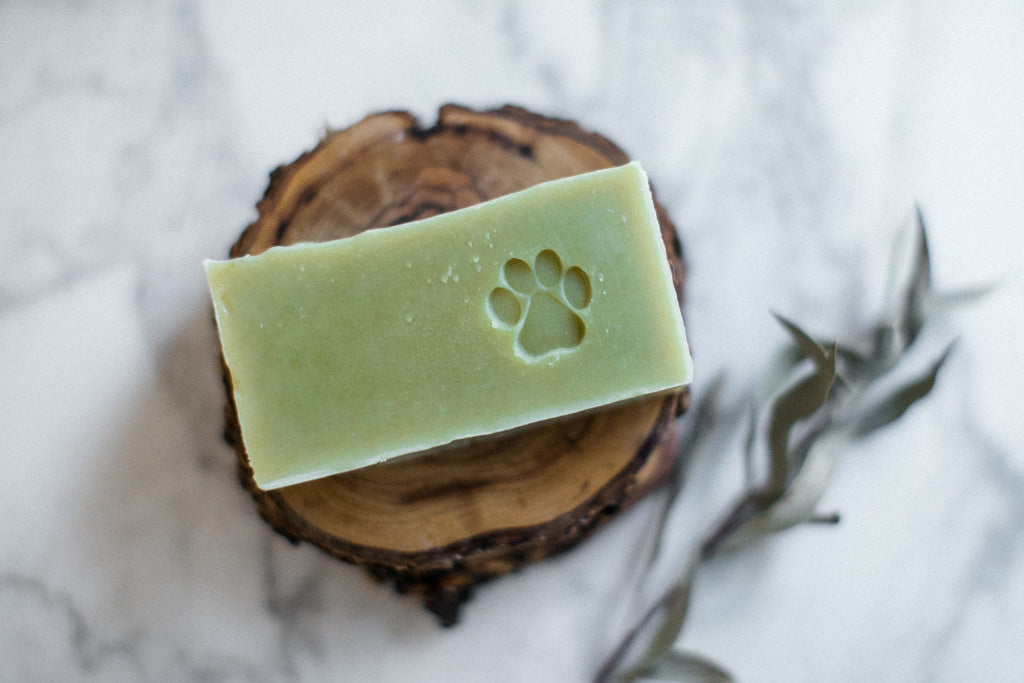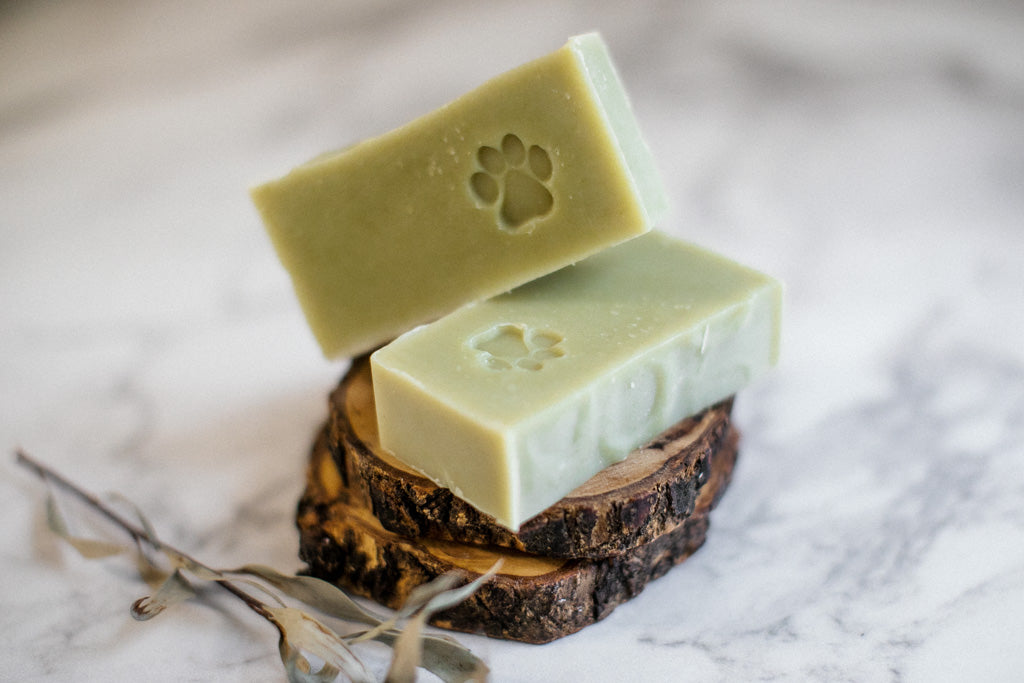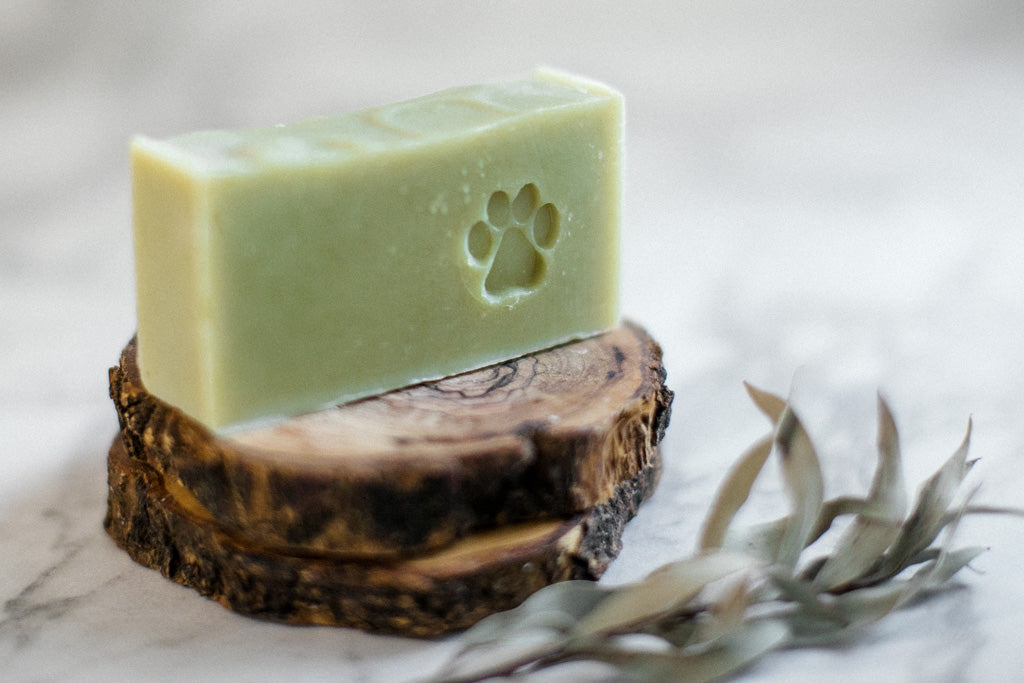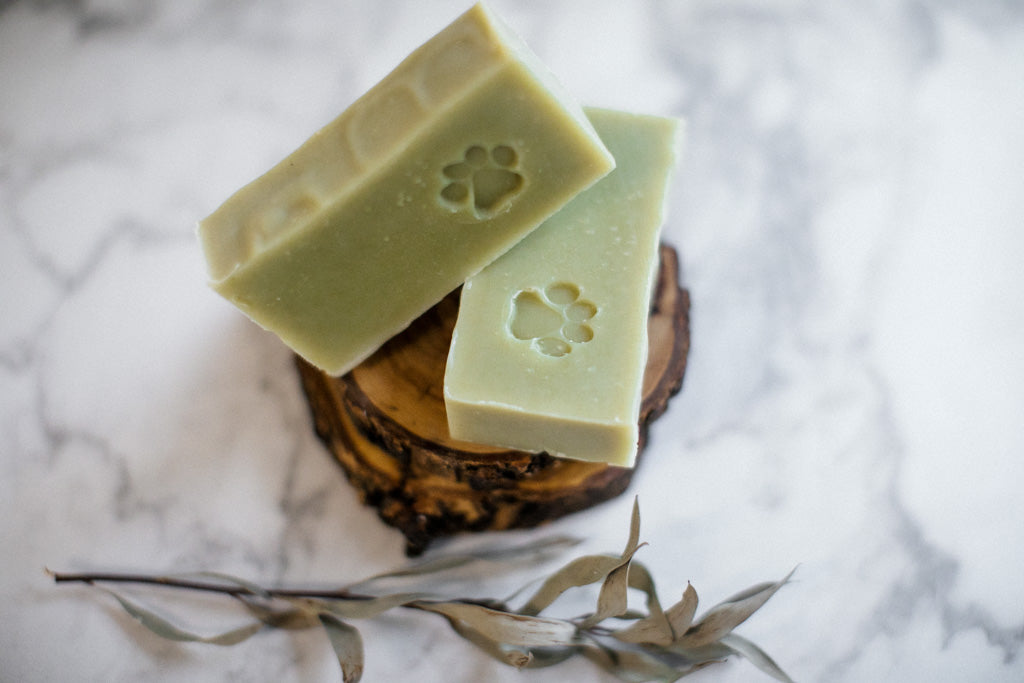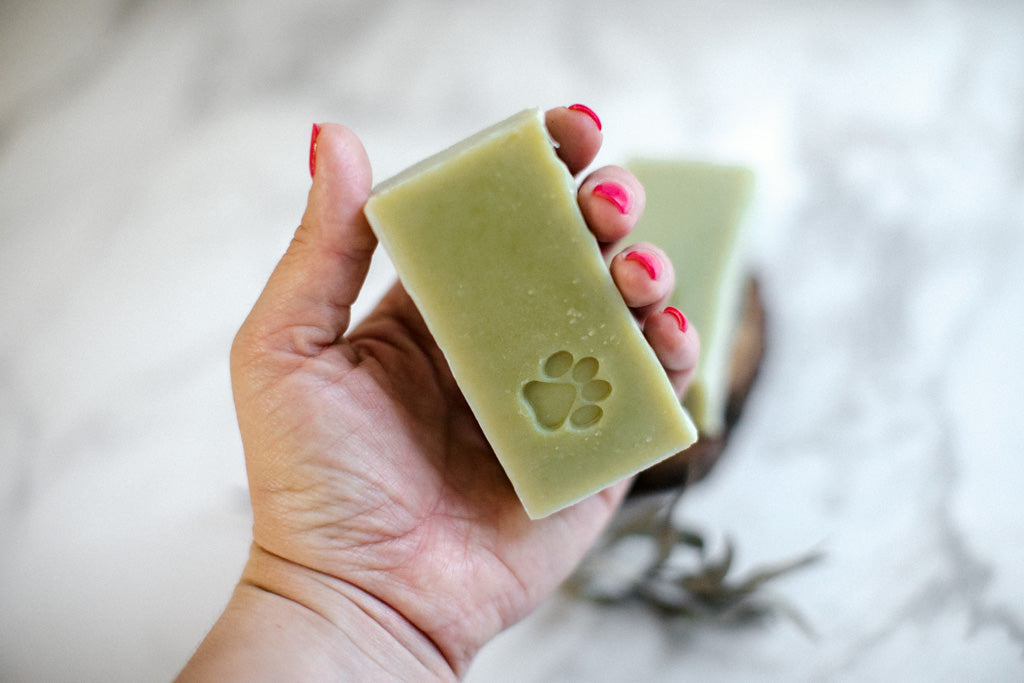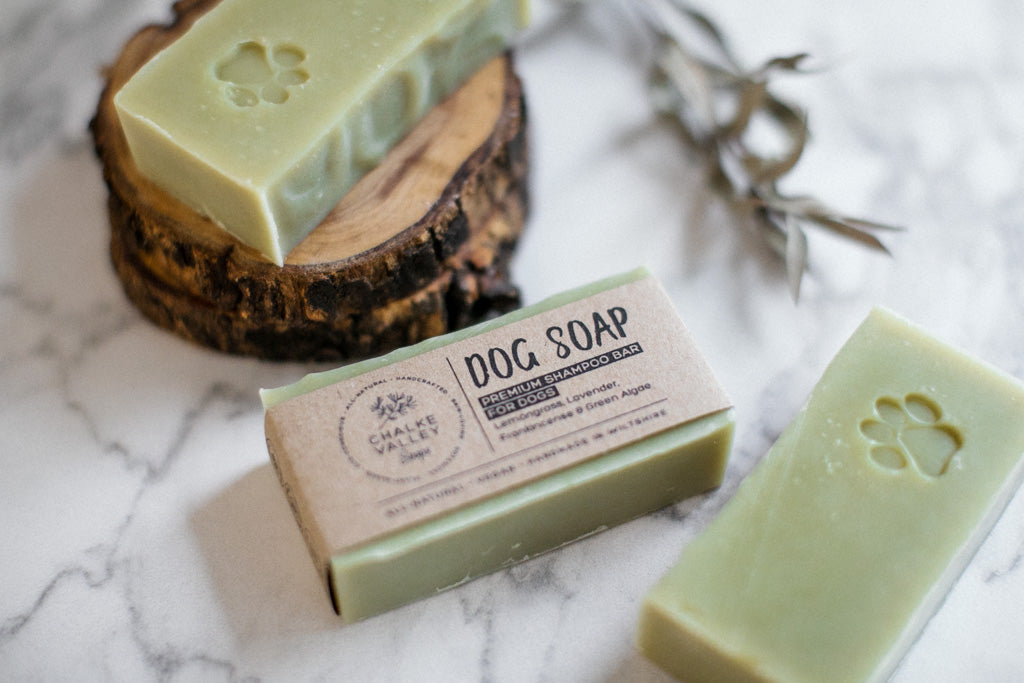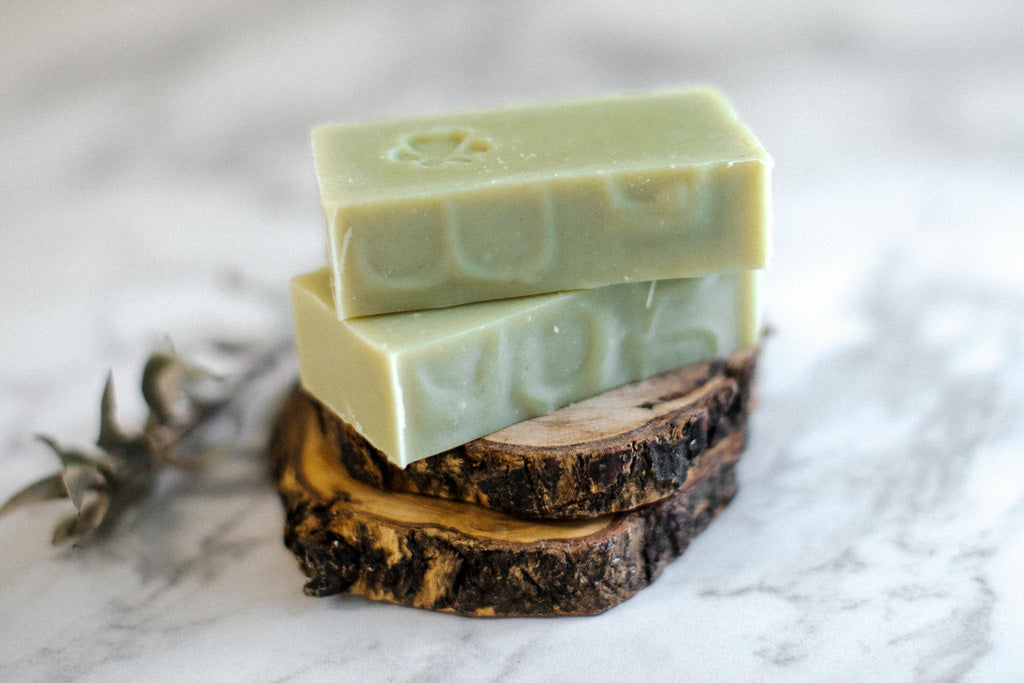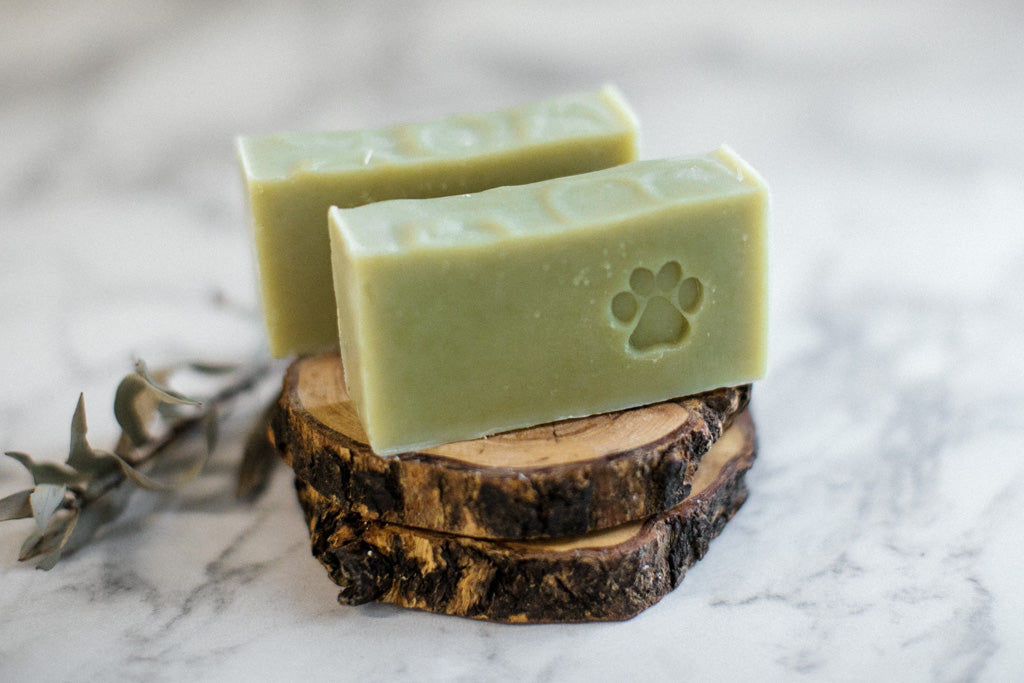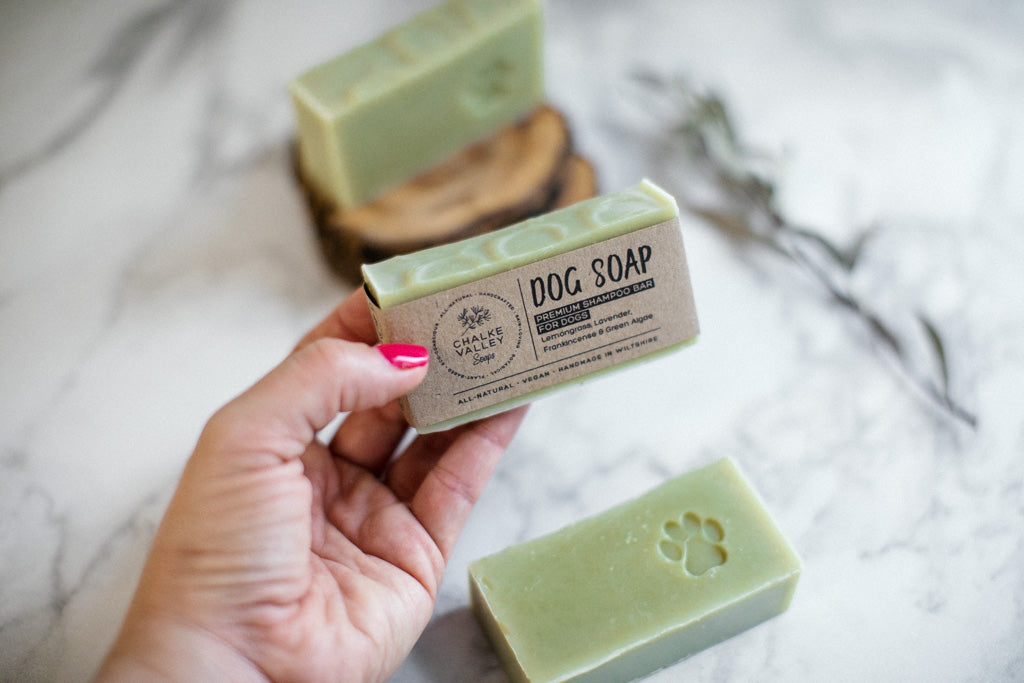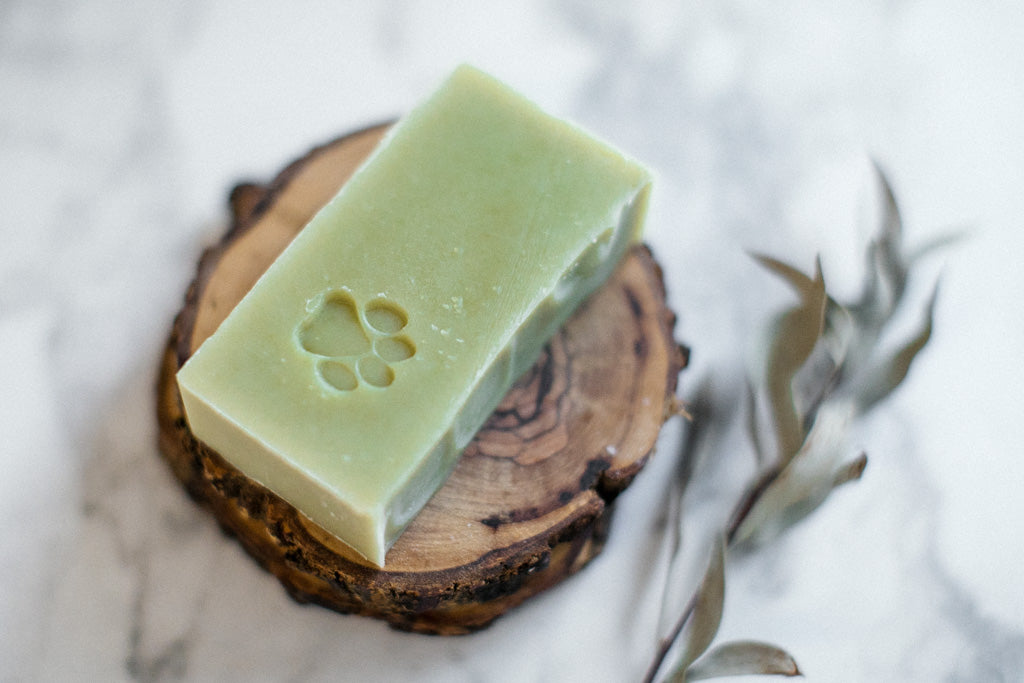 Collapsible content
DIMENSIONS

Weight approx. 90g (3.2oz.)
Size approx 9 x 4.5 x 2.5 cm
Approx 25 washes for a medium-sized dog.


HOW TO USE

To use your doggie bar, build up some lather by rubbing it to wet fur. Using your fingertips, wash all over carefully not to let the product get into the eyes or mucous membranes. Rinse well with water. Repeat if necessary.

Help your dog shampoo bar last longer by allowing it to dry out completely between uses. Keeping it on a well draining dish is key, if you need one then please see our accessories.
WARNINGS

For external use only!

Avoid contact with eyes, mucous membranes, or broken skin!

If irritation occurs, discontinue use!

Store in a cool dry place!

Not recommended for cats as they don't like certain essential oils!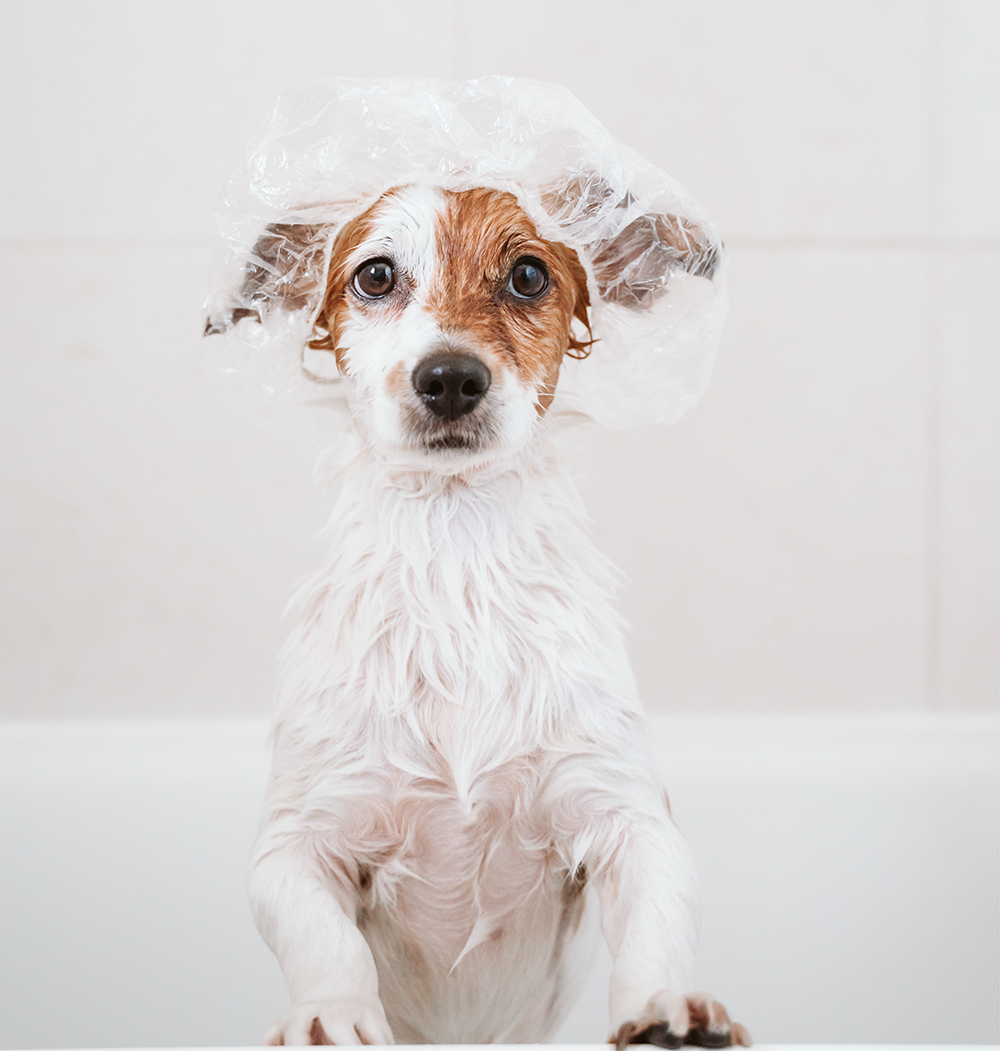 Did you know?
It's crucial to note that not all essential oils are canine-friendly! Some oils like Tea Tree, Eucalyptus, and Peppermint can have adverse effects on your four-legged companion.
That's why we take special care in formulating our dog-friendly products at Chalke Valley Soaps. We opt for premium-quality essential oils that are not only safe for dogs but also offer the added perks of bug-repellency and calming aromatherapy effects.
Choose with confidence for the well-being of your furry family member.
Packaging & Shipping

All our products and labels have been designed to be 100% plastic-free and will be carefully prepared in eco-friendly packaging then shipped within 3-5 business days. Express delivery service is available.

READ FULL SHIPPING INFO

Loyalty Programme

Earn Bubble Points each time you shop with us or follow our social media accounts. Spend your Bubble Points on soap, bath salts, shampoo bars or anything you like in our shop.

You can also earn a discount voucher each time you refer a friend to us! 

LEARN MORE

Disclaimer

We at Chalke Valley Soaps are not medical or healthcare professionals and do not claim that the use of our products may have a positive effect on pre-existing physical and/or mental health conditions. The information in our listings pertains to the properties of specific ingredients used in the product.